Cambridge won both the 75th Women's Boat Race and the 166th Men's Gemini Boat Race on the River Great Ouse in Ely on Sunday.
In the closest men's race since 2003 and the closest women's race since 2011, Cambridge took both trophies in an unprecedented and unique event raced between Ely and Littleport in Cambridgeshire.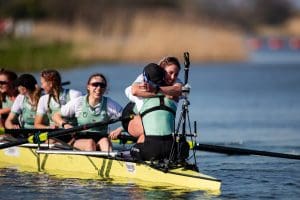 Cambridge University Women's Boat Club President Sophie Paine said: "It was the closest race I've ever been involved in, it was a real nail biter. The main thing for us was that we were able to establish a rhythm really early on in the race which really carried us through. We locked into one rhythm that got us to the end in the right place."
Dylan Whitaker, the winning cox of the Cambridge Women's boat said: "Massive, massive props to Costi [Levy, Oxford cox] … she steered like an absolute champ. It was close! But we knew what our plan was, we kept it calm and we did it."
Cambridge's Sarah Tisdall added: "Awesome race, massive congrats to Oxford … that's the closest race the females have had. Awesome day for the sport and really proud of this team."
Umpire Sarah Winckless had a busy time umpiring the men' race – the first woman to do so, keeping the crews apart as each sought advantage from what little current there was on the slow-flowing river, and navigating them away from a potentially destructive clump of weeds.
Said Callum Sullivan, President of Cambridge Men: "It's been a fantastically unique season. We've had to roll with the punches, every step of the way. Just adapt and keep the crew's energy and momentum really high every week. These are great guys, they stuck together and made it work, every step of the way."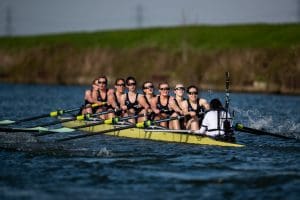 Oxford's Augustin Wambersie, the Oxford crew's stroke, added: "The guys put it all out there. That's all I can say."
Speaking on behalf of the Boat Race Company Ltd, Chair Robert Gillespie said: "We are immensely grateful to everyone both on and off the water who helped make today's event happen. We should acknowledge that every student athlete racing today delivered outstanding performances in uniquely difficult circumstances.   The resilience shown by the athletes through the long and lonely months of training in isolation is extraordinary but delivered Races that will rank amongst the best of all time.  Congratulations to Cambridge on winning both the 75th Women's and 166th Men's Races and commiserations to two very competitive Oxford crews.  The Gemini Boat Race 2021 will remain a unique event in The Boat Race history."